In addition to our regularly programmed classes, we offer one-day and 6-week long special events open to all. We also kick back with the occasional movie night, too!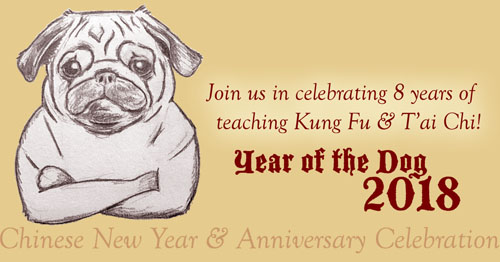 Saturday, February 17 starting at 5pm
We are still at it! Help us celebrate the Year of the Dog and eight years of teaching. Join us for a demonstration from some of our students and teachers, food, and prizes! All are welcome. Demo starts about 5:15 – don't miss it!
Spear vs Broadsword
Saturday, March 10 • 2-5pm
Open to current students. Who will win, the speedy slashing of the broadsword, or the reaching strikes of the spear? Find out when you learn this two-person set. Required for second degree black belts. Learn it early to get ahead of the game!

Saturday, April 28 • 10-11am
Every year on the last Saturday of April, thousands come together across the world to celebrate all of the wonderful things T'ai Chi and Qigong have to offer. If you've never tried it, now is your chance to jump in!
Free and open to all.
Our space is available for your event! We have openings all day on Sundays as well as short, select openings during the week. Please contact us for more information.