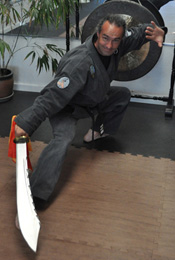 Charles Shepard has dedicated over four decades to his martial art studies. He has trained in 16 major systems and earned five black belts (two 3rd degree black belts) and a 2nd Degree Black Sash in the internal arts. In 2013, he was inducted into the Masters Hall of Fame. Charles believes in the functionality of all material and his quest led him to Shaolin kung fu. His philosophy is learn it, know it, live it.
Robin Dahlberg has spent over 20 years training in kung fu and earned the rank of 4th degree black belt. She is also a member of the Pacific Association of Women Marital Artists and was selected to teach at the 2014 and 2018 camps. Robin considers herself a student first and has gone on to study other aspects of physical training including yoga, CrossFit, and meditation. Her training emphasis is on details, awareness, and keeping a sustainable practice.
Johnathan Ho started kung fu bright-eyed and bushy-tailed at the age of eight, and spent the next fourteen years studying and training to obtain a 2nd degree black belt. He understands the growing process that comes with the dedication to martial arts, especially as a child or teen. He self-identifies as a "bridge between the adult and kid world," which is why he revels in being an instructor for the adult program as well as the head instructor for the Junior Warriors program. Always upbeat and playful, he can get kids and adults alike to wear a smile while still fostering a disciplined environment. Be prepared to work hard and laugh well in his classes.
Lisa Wangsness began her training at Ascension Martial Arts in 2010 and leads classes in T'ai Chi. She believes that, with commitment to the time and training, the practice of T'ai Chi can heal the mind, body, and spirit; it is the perfect exercise, empowering through balance and strength. It can also be a fun and egoless pursuit into oneself and the best way to learn how to kick butt.
Roy Jackson took his first T'ai Chi lesson in 2004, and in a very short time could feel and see the benefits - both physical and mental. He knew then that this was something he wanted. He also wanted the "good life," but was too blind at the time to see he could do both. In 2012 he joined Ascension Martial Arts and has been training in T'ai Chi, kung fu, and weapons. He sees T'ai Chi as a lifetime pursuit. Roy teaches the noon T'ai Chi classes as well as at two off-site locations. He says, "The instruction is professional, practical, and personal. and fun, too! If martial arts are in your sights, don't wait like I did. Do it now! You'll be glad you did."
Shreyas Rajeswari teaches the morning kung fu sessions and has been training at Ascension Martial Arts since 2014. He also trained in kung fu and karate for a couple of years in India. He values consistency in training, looks at kung fu as a way of life rather than a short term committment, and understands the importance of realizing one's limits and working to push them. When he is not flying through the air or reminding people to relax and use their waist, he can be found photographing the stars, hiking through the woods, or trying to learn a new song.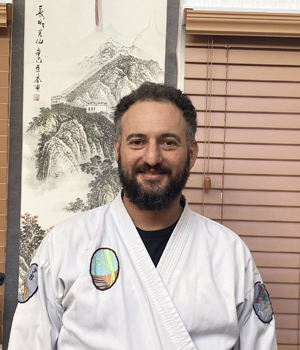 Hugh Seid-Valencia teaches the Thursday morning kung fu class and has been training at Ascension Martial Arts since 2015. As a student of both kung fu and T'ai Chi, Hugh really values the way these two disciplines complement each other. In addition to teaching and learning at Ascension Martial Arts, Hugh serves as rabbi and as Director of Community Engagement at the Los Gatos Jewish Community Center where he can be found teaching Jewish approaches to mindfulness and meditation.